Hey Sweeties,
Now that the summer evenings are lighter, there is nothing nicer than after a long day in the office, to be able to come home and get out in the fresh air for an hour or so -however long time allows before the sun sets.
Before Ian and I moved house last July, I had the most beautiful scenic route for walks and runs around the back lanes of the village which, from initial appearance of our new location, never imagined it could be matched. I was wrong, a mere mile or so up the road we have the beauty of the Thames overflow river, home to tons of wildlife and perfect for quick evening walks and runs or longer strolls at weekends.
I can't remember if I mentioned on here last year about my work's Step Challenge -a virtual walk from London HQ to our Copenhagen office to raise money for The British Heart Foundation? Although our partnership with the BHF has now come to an end and we have begun working with The Prince's Trust, the Step Challenge is back on! For one month, in teams of six we have each pledged to complete 10,000 steps a day (or as close as possible), to support our team to reach the final destination first. Rather than London to Copenhagen, this year we're 'walking' Copenhagen to (and around) the rest of the Nordic region; 848 miles/1,790,976 steps!
The fundraising aside, this is a fantastic work-based initiative and raises awareness of how easily it is to sit at your desk all day and not move except for the occasional tea/coffee run. To date I have been extrememley lucky with where I have worked on the basis of location. In my last office we were situated on a little country lane and also had an amazing forest at the end of the road. In my current workplace, a short walk out of the business park and through a housing estate and we have a beautiful canal to walk along so for that lunchtime break there really is no excuse to not get out for a bit… unless it's raining, that's a justified excuse I guess.
Last year you'll also remember (possibly), at this time training was well underway for the X Runner Water Wipeout Challenge (here) and the Yorkshire Three Peaks (here) I had signed up for. This summer, aside from the step challenge that is already in progress, I haven't yet signed up for anything to provide a focus to my training. Not that I definitely need one, but I think it always helps to have something to work towards so I'll be keeping an eye out for any local events that might be worth participating in.
Sometimes, the last thing you want to do -despite the health benefits- is go out after you have come in from work and that is where the step challenge has its drawbacks; if you haven't met the 10,000 daily step target you have to go out, but in equal measure has it's perks as it forces me to get off my arse and out exercising. I am someone that loves to keep active and fit (as you know) and I am definitely so much happier when I feel fitter but even I have my lazy days and need motivating to move myself! For me, amongst other things, exercising is my number one stress reliever hence why I enjoy playing hockey so much; after a long day I have a good runaround and burn some energy.
What are you guys doing to keep fit and healthy at the moment?
Until next time x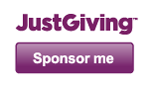 Follow